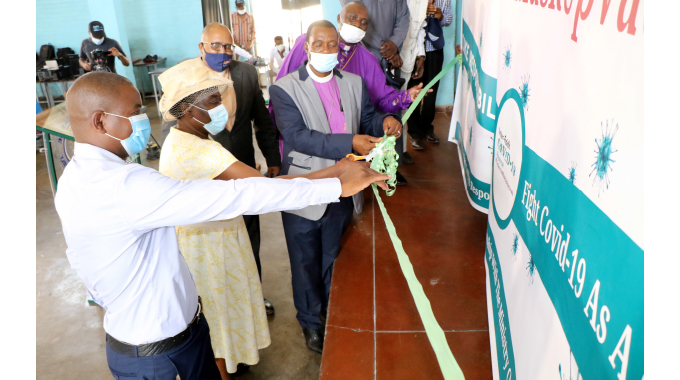 The Sunday News
Vusumuzi Dube, Online News Editor
FAITH-based organisations have joined the Government's clarion call for congregants to be inoculated against Covid-19.
The Zimbabwe Christian Alliance in partnership with various churches and Government health institutions, on Friday launched the inter-faith Covid-19 response which will be implemented in the country's 10 provinces.
Speaking during the launch, Minister of State for Bulawayo Metropolitan Provincial Affairs and Devolution, Cde Judith Ncube said the country was faced with a challenge of a slow uptake of the vaccines hence the church-led inter-faith campaign would go a long way in ensuring that the nation attains herd immunity.
"We realise that the churches and faith communities constitute the largest part of our community and this partnership with Government will indeed result in closing the gap.
We recognise that the church leaders from the onset of Covid-19 pandemic have been working hard, especially those in Bulawayo, to raise awareness as well as provide support to quarantine and isolation facilities.
The initiative by the inter-faith community targets to train at least 500 campaigners in the 16 districts of Bulawayo, Harare, Manicaland, Masvingo, Matabeleland North and South, Midlands and Mashonaland West provinces," said Minister Ncube.
She noted that the training of campaigners within churches and faith spaces will spread the word on vaccination, praising the collaboration work which had been done between the Ministry of Health and Child Care and the churches in the development of training material on Covid-19.
"I am informed that the initiative shall develop awareness material in Braille and pictorial charts to be distributed in these districts.
The initiative shall also involve campaigners carrying out awareness meetings in partnership with the ministry.
"After this launch, district-based launches are going to be carried out by the church leaders as well as colleagues from the ministry.
As Government we applaud the church for coming up with this initiative to partner Government in fighting against this deadly pandemic," she said.
Speaking at the same function, ZCA board member, Bishop Patson Netha, said the inter-faith Covid-19 response was aimed at adding capacity to the already existing work that is being done by other stakeholders.
"We cried out that the churches cannot be open for the vaccinated only and we could not stop there hence we thought it was wise to have such a programme that will encourage the congregants to go and get vaccinated.
As faith-based organisations we want to be seen in the forefront of the fight against this pandemic, we want to see a Zimbabwe that is vaccinated," he said.
Bishop Netha said the campaign was a first one of its kind as it included different religious groups such as the Muslim community as well as traditional leaders.