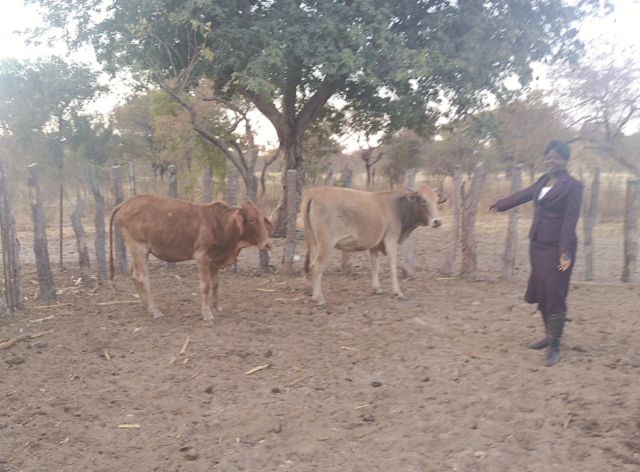 The Sunday News
Dumisani Nsingo, Senior Farming Reporter
IT'S a chilly Wednesday and the sun is setting and Mrs Mainah Ndlovu stands a stone's throw away from the cattle's pen gate with her arms akimbo, though a bit vigilant to guard against any of the animals being driven by one of her grandsons from straying away from the entrance into their habitat as they are being moved to put up for the night.
Mrs Ndlovu brings out a glowing and joyful smile as she watches the family's herd of cattle trooping into the pen — of course she can afford a smile as these are not merely bodies of animals — they symbolise the family's social status in Banda Village at Menyezwa Ward in Lupane District, Matabeleland North Province.
Just like most communal farmers nowadays, Mrs Ndlovu and her husband Fred are very much aware that cattle are no longer reared for sentimental value but enhancing livelihoods. The Ndlovus are part of the five communal farmers in Lupane that have benefited three heifers each under the on-going Government's Special Livestock, Fisheries and Wildlife Programme.
The Command Livestock Programme has been blissfully received in the Matabeleland region taking cognisance that the area is rich in cattle farming and its climatic classification of which most of its areas fall under Natural Region Four and Five which are relatively dry with very low annual rainfall.
"As a farmer I am excited about this Government programme, it's truly a positive development which will play a big part in enhancing our livelihoods. The three heifers we received are going to play a significant role in increasing our herd of cattle because we are looking forward to them calving  beginning this year and in the few years to come," she said.
Cattle in the communal areas of Zimbabwe play a significant role in storage of wealth, most cash generated from cropping activities is often invested in buying animals for future use. The economic rationale for cattle ownership in communal areas is firstly to provide draught power and manure for tillage and secondly to provide milk and meat for local consumption, although the role of livestock in the farming system varies significantly from one part of Zimbabwe to another. While cattle have social and cultural functions which are important these are generally secondary to economic functions.
"We are assured of household food security because we get milk from cows, which we also sell to people within our village and outsiders who visit the village and we sometimes slaughter an animal at least twice a year for consumption and realise income to improve our home and buy a number of household utensils, clothes as well as paying school fees for our children and grandchildren," said Mrs Ndlovu.
Another farmer Mr Sicelo Khumalo from Mafinyela Village in Daluka Ward 19 said the Command Livestock Programme would play a big part in enhancing his "investment portfolios".
"This programme has really empowered me in a big way and to add to that I am also a beneficiary of the Command Agricultural Programme and I will be sending five tonnes to the Grain Marketing Board and this makes it more of an integrated farming enterprise as I look forward to increasing my herd of cattle from the proceeds I get after delivering my grain to the GMB. In essence cattle are a source of income as I from time to time sell the animals to pay school fees for my children. I have six school going children and selling a beast at least once or twice a year enables me to meet their educational needs. To me cattle are a form of an investment and as such I applaud the Government for coming up with this programme," said Mr Khumalo.
Mr Khumalo is a recipient of two weaners and one first-calf heifer under the Command Livestock Programme. Department of Agricultural Technical and Extension Services (Agritex) Lupane District officer Ms Sukoluhle Dube said the Command Livestock Programme has been overwhelmingly received by farmers in communal areas.
"Our office is actually overwhelmed with applications. It seems farmers are very excited about this Command Livestock Programme and most are impatiently waiting for the second disbursement, which will be done soon. Five farmers benefited from the pilot project and they were selected based on productivity," she said.
Ms Dube said the high demand by farmers to be included under the programme arises from a paradigm shift of rearing cattle for sentimental value to nurturing the animals for business.
"Most farmers are now aware that livestock farming is a business largely due to the outreach programmes that we have conducted together with a number of non-governmental organisations sensitising them about the importance of good cattle production and management practices to attain better yields," she said.
Ms Dube said a number of outreach programmes spearheaded by the Government and non-governmental organisations, which have seen construction and rehabilitation of dip tanks and setting up of feedlots over the years has seen the quality of cattle in communal areas immensely improving and farmers obtaining optimum value from selling their animals.
"There have been a number of projects that have been spearheaded by the Government and NGOs that have imparted communal farmers with the requisite knowledge in proper animal husbandry practices. Most farmers are now aware of the importance of pen fattening and we have also done quite a lot to link them to lucrative markets, enabling them to realise real value from selling their animals," she said.
A number of communal livestock farmers especially in Matabeleland region have over the last few years turned to pen fattening in an effort to realise meaningful returns from selling their animals. Beef cattle fattening using fodder-based ration involves feeding of beef cattle with a protein-balanced, high-energy diet for a period of 70 to 120 days. This is done under confinement to increase live weights while improving degree of finish for better grades at the abattoir.
Under the Command Livestock Programme communal and A1 farmers are allocated three heifers while commercial and A2 farmers receive five to 10 heifers. Beneficiaries under this cattle loan scheme are obliged to pay back the same number of animals in the form of steers over a period not exceeding five years.
The cattle are paid back to the Cold Storage Company as part of Government's efforts to revive the country's meat marketer and processor, whose fortunes have nose-dived for nearly two decades owing to a myriad of challenges chiefly among them being the advent of Foot and Mouth Disease and the depletion of the national herd.
Matabeleland South provincial crops and livestock officer who is also the Command Agriculture provincial co-ordinator Mrs Simangaliphi Ngwabi said the terms and conditions of the cattle loan scheme were flexible and are bent on ensuring the growth of the livestock sector.
"The cattle received by farmers under the Command Livestock Programme are empowering them to increase their stock and to add to that the loan facility is very relaxed because a farmer who is allocated 10 heifers is expected to pay back with 10 steers after five years and surely one would have significantly improved their agricultural enterprise over that period and made tremendous returns," said Mrs Ngwabi.
Livestock is a long term project and requires long term finance and access to cheap finance instead of the current interest rates of over 10 percent.  Farmers especially A2 and commercial farmers have over the years been finding it difficult to grow their herds because of the lack of medium to long term finance and the roll out of the Command Livestock Programme by the Government has been seen as a relief.
Mrs Ngwabi said the Command Livestock Programme would also play a big part in improving the quality of cattle in the country, which has over the years been affected by inbreeding. Inbreeding or close breeding culminates in reduction in growth rate, fertility, and general vigour of an animal.
"The programme also ensures that we introduce better breeds as most communal farmers were now being affected by inbreeding resulting in poor breeds. Thus the programme will play a big part in improving both quality and numbers but all the same we have to ensure that these farmers get quality bulls because most farmers in communal areas don't have bulls and as such the issue of artificial insemination becomes necessary," she said.
Mrs Ngwabi said livestock farming especially cattle ranching has fast become an investment vehicle.
"If you look our economy has been experiencing some fluctuation over the years and most people especially in communal areas started preferring livestock mostly cattle as a form of investment than the monetary aspect due to issues to do with devaluation and hyper-inflation. Even those that are into mining are beginning to channel part of their earnings towards purchasing cattle and thus benefit wealth from their animals, which they can dispose when the need comes," she said.
@DNsingo