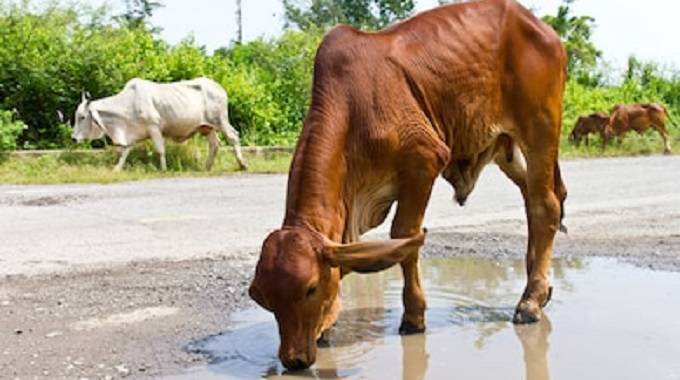 The Sunday News
Dumisani Nsingo, Senior Farming Reporter 
MOST farmers are in danger of losing their livestock especially cattle due to the effects of drought as the country continues to experience a dry spell, experts have warned.
Matabeleland North Department of Veterinary Services provincial officer Dr Polex Moyo said most farmers risk losing most of their livestock to poverty largely due to adverse water availability at most sources.
"The water supply is looking very bad, there hasn't been much inflows into water catchment areas and the water table has significantly dropped in most areas. Water is very critical, just like feed to animals, if not more critical," he said.
Limitation of water intake reduces animal performance quicker and more dramatically than any other nutrient deficiency. Water constitutes approximately 60 to 70 percent of an animal's live weight and consuming water is more important than consuming food. 
Domesticated animals can live about 60 days without food but only about seven days without water. Livestock should be given all the water they can drink because animals that do not drink enough water may suffer stress or dehydration.
"The graze we have owing to the late rains we received won't last for long. As such, as a department we are spreading a gospel through our own improvised motto whereby we are saying to farmers, 'Save your livestock, Save your business, Save your legacy', otherwise as a region we will be finished because of this impeding drought," said Dr Moyo.
He said there was a need for farmers to start culling their old animals and remain with breeding stock.
"Farmers are running the risk of flooding the market with cattle which the market cannot consume. At the moment the cattle coming to the abattoirs are very few because of the little graze which is there. There is a need for farmers to embark on strategic culling as it is more important to retain their breeding animals," said Dr Moyo.
Matabeleland South Department of Crop and Livestock provincial officer Ms Simangaliphi Ngwabi said the most common water sources in her area of jurisdiction were on the brink of running dry. 
@DNsingo