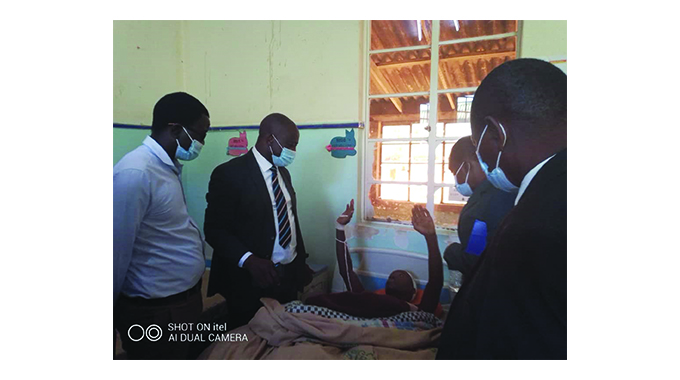 The Sunday News
Rutendo Nyeve, Sunday News Correspondent
THE construction of a district hospital at Esigodini is set to commence this month as part of Government's efforts to improve the health infrastructure in Matabeleland South province.
This was revealed by the Deputy Minister of Health and Child Care, Dr John Mangwiro, last Thursday after touring Esigodini Hospital that has seen significant renovations following donations made by the public and private sector, locally and abroad.
The Deputy Minister, who was accompanied by the Minister of State for Provincial Affairs and Devolution in Matabeleland South Province Hon Abednico Ncube, Provincial Medical Director Dr Rudo Chikodzore, Umzingwane Constituency Member of Parliament Rtd Brig Gen Levi Mayihlome, Umzingwane District Medical Officer Dr Marambire Sinaravo and other Government heads of departments expressed gratitude at the improvements made at the hospital.
"I have just toured Esigodini Hospital or I can call it a clinic because it is a 25- bedded clinic. This is not my first time here. I was here last year and what I found is totally different now. The hospital really is an old infrastructure but I think the District Medical Officer is doing very well as you saw it is very clean. There are a lot of problems like water but they have drilled a borehole and they are going to install a submersible pump. They also have problems with electricity but I can see they are very innovative as they have put solar power," said Dr Mangwiro.
The 25- bed facility is undergoing transformation after companies like How Mine, community groups like Save Esigodini hospital and individuals donated building material towards its refurbishment.
"They are expanding the maternity ward, the X-ray facilities are excellent. The out patients and new toilets are also being constructed with the help of the Honourable MP Mayihlome who is doing well. So we really hope things are going to continue like this."
Meanwhile, the Deputy Minister, who was also on a nationwide assessment of the Covid -19 vaccination programme said the new hospital is set to be built with the initial stage being the construction of accommodation facilities for doctors and nurses.
"The most important thing is that my Minister who is the Vice President of the Republic of Zimbabwe has said this place must have a district hospital. I have been informed that the space is there, the plans are there and we were with the resident Minister responsible for Devolution. He has declared that the construction of the hospital will start as early as next week. Most probably they are going to start with accommodation of doctors, nurses and health care givers because they do not have accommodation. Doctors and nurses are running away from this place, I have seen doctors sharing a room, nurses sharing three rooms so accommodation is difficult. He has said the first phase will be building accommodation as the place is nearby. They are going to build a 150- bed hospital so Esigodini must brace up for this.
"The Provincial Medical Director told me that there is $3 million already set aside for this project. This will set the ball rolling. The Honourable Minister of State will also be pushing for funding to be released. These are things that have always been there and just need to be switched on. The funding is there from the Government and it will continue to be done. These are continuous projects and money will also continue being mobilised and we are going to see developments. I will also personally ensure that the project takes off because it's our determination to make sure district hospitals are constructed," said Dr Mangwiro.
While calling upon the nation to continue upholding Covid- 19 prevention measures post vaccination, Dr Mangwiro said Government prioritised Matabeleland South as it houses border towns which put them at flight risk of the deadly pandemic.
Meanwhile, the Member of Parliament for Umzingwane constituency Rtd Brig Gen Mayihlome expressed gratitude at the visit by the Ministers and called upon the community to partake in the development and improvement of the health facilities as they are the custodians.
"I would like to express my gratitude following the visit by the Deputy Minister of Health as well as the Minister of State for Provincial affairs and Devolution in Matabeleland South Province. The Deputy Minister called for decisive and resolute action to be taken in our health facilities. We realised that Government is availing resources but there are no takers to use them. As such the Deputy Minister's visit gave us the courage to work extra hard to improve our health facilities through the support being given by Government. We will also support Government efforts as a community. What we call upon is that while the new hospital is being constructed, may the current facility continue being improved. The Minister gave us a challenge as a community to ensure we contribute towards the betterment of our health facility as this is our own hospital," said Hon Mayihlome. — @nyeve14