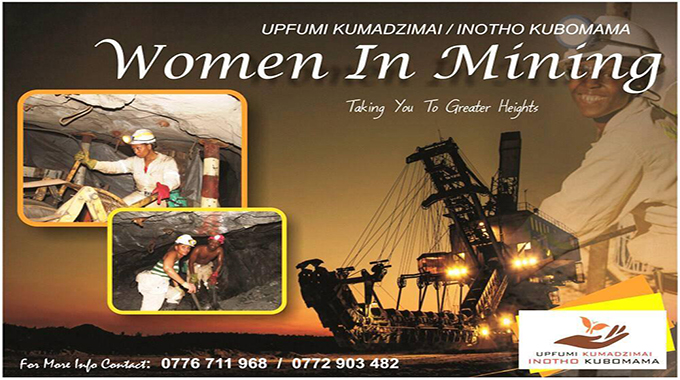 The Sunday News
Dumisani Nsingo, Senior Reporter 
MRS Nonceba Mwedzi-Agwaniru is the brains behind a Bulawayo-based women and girl child empowerment grouping, Upfumi Kumadzimai/Inotho Kubomama, which thrives on freeing the marginalised groups from the oppressive shackles of poverty through various income generating and self-help projects meant to sustain their livelihoods.
Through their entrepreneurial spirits, the members have made ends meet by growing vegetables, rearing chickens, beads making and other means. Eventually relieved from the early financial burdens of their marriage, 16 of the 200 women membership group decided to make it big by venturing into gold mining in anticipation of much improved returns.
"We decided to venture into gold mining last year after one old man approached us while we were in Mbembesi and asked if we could partner him in extracting gold at his claim. We pooled our resources together to ensure we obtained a mining certificate and several mining licences, which were required to legalise our operations," said Mrs Mwedzi-Agwaniru.
Little did the group know that assuming legality was merely more of a toddler's first attempt to walk with the distance to achieving being yonder. 
With mining being a capital extensive project, it meant the group had to come face to face with their nemesis, collateral, which has over the years stifled their efforts to grow their enterprises upon approaching financial institutions for capital injection.
When seeking financing, lack of collateral is among the most widely cited obstacle encountered by Small to Medium Enterprises and the primary among women. Women are particularly disadvantaged due to the fact that they own less real estate property than men.
"Lack of funding to purchase mining machinery has seen us struggling to start fully fledged operations at our mine. Efforts to access loans at financial institutions have been futile as these always demand collateral of which virtually all of us we don't have. We can't afford to hire equipment such as a compressor and a jack hammer as it costs as much as $US100 a day. As it is we are being forced to sell one of our cars to try and raise funds," said Mrs Mwedzi-Agwaniru. 
She believes that if women get the opportunity to unleash their abilities, they will conquer the darkness of their life and contribute to the family, society and country. 
"If only we could get financial support we can be a living example to demystify the notion that the mining industry is solely meant for men. We are aware of the benefits, which comes with extracting gold and we intend to use them to empower ourselves while also playing a part in improving the country's economy," said Mrs Mwedzi-Agwaniru. 
Women comprise 11 to 15 percent of the estimated 50 000 small-scale miners in the country. A 2017 report entitled Women's Economic Empowerment in SSB — Recommendations for the Mining Sector, reveals that though the mining sector remains a key driver to economic growth and transformation in Sub-Saharan Africa, rarely has it delivered benefits in reducing poverty and improving livelihoods for the majority of the population. 
Fidelity Printers and Refiners head of Gold Development Initiative Fund (GDIF) Mr Matthew Chidavaenzi confirmed that lack of collateral was hampering women's full participation in mining. 
"We identified that women miners were failing to access the GDIF and we did some investigations to ascertain the reason which caused such difficulties. One of the problems we identified is to do with collateral. Most women don't have collateral in their names and then the second problem was skills, women lacked the requisite skills to do mining as a business," he said.
Mr Chidavaenzi said the organisation was in the process of seeking an insurer to underwrite the risk in the event the women that would have accessed the loan facility failed to repay.
"Women will never access money the moment you speak about collateral. So it's one of the reasons we are trying to address by getting an insurer who will insure the loan and we give you with minimum collateral, it may be the plant or equipment that we buy for you," he said.
Mr Chidavaenzi said in an effort to impart and capacitate women in mining with the requisite skills in the trade, FPR facilitated a mining course for some of them at the Zimbabwe School of Mines further stating that the participants of the training programme would be given preference to access the fund.
"The third challenge, which we think is a huge challenge in mining is the issue of claims. Women miners don't have claims. If they don't have claims then it is very difficult for them to get finance because they do not have anywhere where they will be able to mine. So part of the discussion, which we are having with the Ministry of Mines (and Mining Development) and large-scale producers is to say, can we get tributes, which will be given to women so that women can be able to be supported through being given all the requisite capital to start viable mining projects on good claims where they are not harassed or forced out of their places," he said.
Also to take note of is the hostile grabbing of mining claims belonging to women, which remains prevalent in the small-scale mining sector as gender-based violence also continues to be perpetrated towards women across the whole mining value chain.