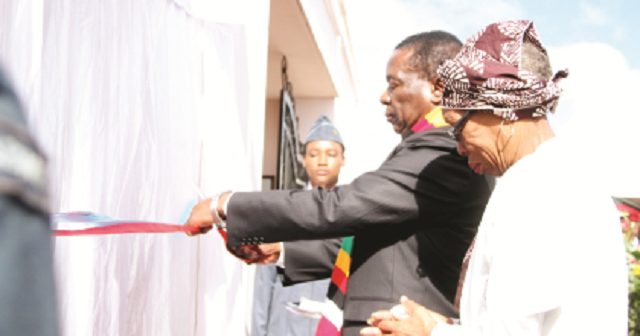 The Sunday News
ON Friday the Government of President Emmerson Mnangagwa officially named the cantonment, which houses the Zimbabwe National Defence University and other institutions the Rogers Alfred Nikita Mangena Barracks.
President Mnangagwa presided at the ceremony during which he described Cde Mangena as "indisputably one of the towering figures in the history of Zimbabwe's liberation struggle as the Commander of the Zimbabwe People's Revolutionary Army (Zipra)."
As a tribute to the late Cde Mangena in our Lest We Forget Column we reproduce an interview, which is an eye witness account on how he died in June 1978. The interview was published by Sunday News on 27 December 2015 where our Assistant Editor Mkhululi Sibanda (MS) spoke to one of the former Zipra guerillas, now Retired Lieutenant-Colonel Stanford Moyo pseudo name Cde Lloyd Zvananewako or Mabhikwa. Rtd Lt-Col Moyo cleared some misconceptions that Cde Mangena was eliminated by his colleagues because of differences on how to drive forward the struggle. Below he reconstructs the events of that painful day:
MS: Retired Lt-Col Moyo, a lot has been said about the death of Rogers Alfred Nikita Mangena with some claiming that he was killed by his colleagues over differences on how to execute the armed struggle and also that he had become too powerful. How far true is that?
Rtd Lt-Col Moyo: With what happened on the ground such talk should be dismissed with the contempt it deserves. I was one of the Zipra troops who witnessed first hand the death of our commander, Cde Mangena. In fact the commander died in my arms while I, Cde Dube who was popularly known as Cde Donki and others were trying to assist him. In fact before we talk about that incident I think there is a need for us to narrate first the events leading to that unfortunate incident so that it becomes clear to everyone. For starters I happened to be in Zambia because I had gone there to collect our supplies. I was one of the guerrillas who had been operating in Lupane since 1977.
MS: So how did you find yourself there?
Rtd Lt-Col Moyo: On our return to collect supplies we were deployed about 40km from the Zambezi River by Cde Matshiya. We took our positions on a high ground for strategic reasons. A reconnaissance team of the Rhodesian army then fell into our observation post where I was. Two of my comrades were about 80 metres away from us observing the eastern side of the hill overlooking the Kariba Dam. The four-man team of the Rhodesian reconnaissance unit approached their position. One of the comrades fired two shots only and the scout of the group who we presumed to be the group leader exploded. From the remains of that man whose name was called Falizou from the information we found on him we managed to pick a map, A76 radio, 2x claymore mines and a ration pack. The other three Rhodesians ran down the slope. They were later picked by a helicopter while we watched but did not engage them. This was because that helicopter was covered by two other helicopters and another aircraft (iseleyi). Immediately after the enemy left we went and reported to Cde Matshiya who then told us that he was waiting for me to go and receive some of the comrades who were being escorted by the Zambian soldiers.
Those comrades were heavily armed and among the weapons they were carrying were SAM7 (Stralers). I proceeded to meet the Zambians and our troops while Cde Matshiya and others remained studying the captured map. The following day I reported back to Cde Matshiya with the SAM7 comrades. Cde Matshiya then tasked me again now with about 20 men to go and clear the road and also tell Cde Donki who was in charge of the logistics base to go and advise Mai Tawanda, a nurse at Kapanga Mission who was a Zipra contact to tell any of our comrades not to pass Kapanga Mission. Cde Donki also had another task in Lusaka.
MS: To take you a bit back Cde Moyo, what did that map contain?
Rtd Lt-Col Moyo: The map had signs or marks that showed the routes that our forces were using, the area where the Rhodesians wanted to ambush us.
It also showed where our logistics were situated and it was a very disturbing piece of paper so we had to move with speed to prevent any catastrophe befalling us, but as you know communication was difficult because we had few communication devices, so the delivery of information was physical. To us it became clear that the Rhodesians were preparing to lay an ambush because on the map there were signals like "terr", which we knew meant terrorists and "AMB" which we interpreted to mean ambush.
MS: Okay we can go back. After Cde Donki had left what happened?
Rtd Lt-Col Moyo: We were then left at the logistics where some of Cde Donki's men prepared us food. When we were having our meal at about midday we heard a landmine explosion, immediately followed by three explosions which we assumed were from RPG 7s (bazookas). The explosions were along the route which we were to clear. We quickly finished our meal and proceeded towards that direction. We moved for about four hours and bypassed that position. After bypassing that position we went to a village, which was along the same road which we were clearing. The villagers told us that the vehicles which were attacked belonged to the Zipra forces. By that time it was about sunset and we decided we would advance the following day. We then deployed along the road as if we were laying an ambush.
MS: Let us go back a little bit again; can you relate to us what had happened before the ambush?
Rtd Lt-Col Moyo: Cde Donki had managed to reach Kapanga Mission using lifts after changing into civilian gear and got in touch with Mai Tawanda.
He had then proceeded to Lusaka on a bus and unfortunately on the way he came across our three vehicles, amaZyl which were carrying our troops.
However, there was no way he could stop the bus he was in. Our comrades under the command of Cde Assaf indeed got to Kabanga Mission and Mai Tawanda warned Cde Assaf about the possible danger and he defied. Her repeated pleas fell on deaf ears and the comrades proceeded and that is how they fell into that ambush. Cde Assaf, a friend of mine died in that ambush. He was on his way to hand over our troops to Annanias (ZNA commander Lt-General Philip Sibanda) who was in turn supposed to deploy them to the Gokwe area.
MS: So you kept your deployment around the road for how long? Take us through what happened.
Rtd Lt-Col Moyo: The next day at around 4am we noticed people along the road from the direction of Kapanga Mission. I instructed my troops who were deployed on my far right to let the men come, pass the middle of the deployment where I was. Luckily when they were about to pass my position I noticed the now Retired Colonel Eddie Sigoge, Enoch Tshangana (the late Retired Major-General Jevan Maseko) and the commander himself, Cde Mangena. I stood up and approached them. I then greeted the commanders. After a short brief I gave to the commanders Cde Mangena ordered me to clear the road towards the ambush area. I had 20 men under my command and Cde Mangena gave me more of almost the same number. We quickly got into action and by midday we had cleared the area and sent some men to call the command group and they arrived. The next task was clearing the bodies for possible booby traps. That took the whole day as the burial was completed around midnight.
MS: That was hectic I suppose and then after the burial what happened?
Rtd Lt-Col Moyo: Immediately after we had finished the burial of the 39 comrades we started moving north towards Kapanga Mission. Forty plus men were involved. We marched along the road with our troops either side of the road while the command element was in the middle of the formation. After walking for about six kilometres the commander, Cde Mangena asked Cde Donki to instruct the signal man to call the vehicles so that they could pick us. However, Cde Donki advised the commander that it was not yet safe to do so and he accepted Cde Donki's view. We continued with the walk and after about 30 minutes the commander made a rush of about 30 minutes. I then ordered the men to move and we climbed up a ridge and descended towards the mission and another rush was called for by Cde Mangena. A halt and rest of about 30 minutes was also done. Cde Mangena gave an instruction again that the vehicles be called but Cde Donki stood his ground and again resisted. After the rest we moved forward for about five kilometres, another halt was called for. During that halt Cde Mangena himself ignored Cde Donki and instructed the signal man to call his vehicle.
There was nothing Cde Donki could do to stop him this time because the commander had given the instruction himself.
MS: Did the vehicles come and what happened after that?
Rtd Lt-Col Moyo: In just a few minutes we saw a vehicle coming along the road from the northern direction. In my judgment it seems we were left with about three kilometres to reach the place where the command group had left their Land Rovers. Immediately the vehicle got where we were, the driver was then instructed to turn back and stop. We were ordered to embark and I quickly jumped on the vehicle and took a seat at the front next to the driver. The rest of the command group also got into the vehicle except Cdes Mangena and Tshangana. Cde Tshangana then came forward and ordered me to disembark and leave the space for him and Cde Mangena and I obliged as instructed. Cde Mangena then sat where I had been seated. I then went to the back of the Land Rover but I found it full. I then clung onto the vehicle and put my feet on the step-up of the vehicle. I gave the signal that I had boarded and the vehicle moved.
Within a distance of less than 80 metres the Land Rover detonated a landmine and I found myself lying on the side of the road lit by the Land Rover's lights. I looked for my AK-47 but could not find it. I shouted at the same time asking what was happening. Somebody shouted back saying it was a mine.
MS: How was the situation now?
Rtd Lt-Col Moyo: There was confusion all over. Someone cried from the vehicle and Cde Donki who was now on his feet called me and two others to check who was trapped by the vehicle, we lifted it and found our commander, Cde Mangena under it. We then took him to the roadside and laid him down. He was asking "kwenzakalani, ngifelani?" Cde Donki and I tried to cool him down at the same time assuring him that he was not dying. I then left Cde Donki and another comrade attending to the commander. I joined others who were looking for more casualties and my weapon. During the search we discovered two dead comrades, one was Cde Pressman and the other I was told later had trained at Mwembeshi. Those who were injured but still alive were Cdes Bella, the commander's driver and Cde Sigoge. These two were stretcher cases. Cde Tshangana was able to move but was very confused and we had to disarm him for safety reasons. The rest were alright. After picking an AK-47 I went back to where the commander was lying.
While we were attending to him a machine gun fire came from a small ridge on the right of the road. Our troops fired back and there was exchange of fire for about three to four minutes. After the cessation of gunfire Cde Jack called out saying he had been injured while we continued trying to put a bandage on the commander who had a deep cut at the centre of his back. Within 30 minutes of the landmine incident the commander passed on. It was like the whole world had crumbled, it was one of the most painful periods in my life. He died in my arms.
MS: After you had noticed that the commander had passed on what did you do?
Rtd Lt-Col Moyo: Cde Donki ordered me to go and advise the commissar, Cde Gedi (the late Retired Colonel Richard Dube) about what had happened.
Cde Gedi had been left looking after the vehicles with other comrades and as the most senior because of the state in which others were in he took over the command. Orders were then given that all the casualties be taken to the Zambian army bases while the dead be camouflaged along the nearby stream for burial in the late afternoon. The bodies including that of the commander were hidden in the stream. However, one casualty whom we thought had died but survived capture was Cde Sigoge. Cde Sigoge was left lying when the dead and the injured were picked. Fortunately we realised when we were about three kilometres away that he was missing. Comrades including myself and Cde Mathwasa then went back and found him and when we got to him he asked "chi chirikuitika?" and we just picked him and said "akulalutho". Then just around 5.30am before we could reach the ambulance three helicopters came from the north. At first we thought there were from the Zambian Defence Forces but quickly realised there were enemy forces.
MS: What did you do with Cde Sigoge under those circumstances?
Rtd Lt-Col Moyo: We hid him, the helicopters were hovering and maybe in panic Cde Poktiv fired one round using a Diktarov machine gun and luckily it seems the enemy did not notice that. The two helicopters remained overhead for some time and then one landed where the commander's Land Rover had been hit. In less than five minutes the enemy then flew away. We then got our casualties to the ambulance. There was another instruction that the commander's body be taken to Lusaka. The instruction was duly followed. After that we buried the dead and established a new base in the area while the Zambian soldiers withdrew northwards in the Lusaka direction.
MS: How was the mood after this unfortunate incident of the death of Cde Mangena?
Rtd Lt-Col Moyo: There was a lot of panic among the troops with most of us greatly affected by his death. However, like in any war situation the comrades soldiered on.
MS: Do you think if Cde Mangena had listened to Cde Donki his death could have been averted?
Rtd Lt-Col Moyo: It is difficult to say but I think if we had walked we were not going to be affected by that landmine. However, I think the commander, like all of us was suffering from fatigue because of the burial process.
MS: So who is Rtd Lt-Col Stanford Moyo, can you give us your brief history?
Rtd Lt-Col Moyo: I was born on 20 November 1956 at Antelope Hospital in Kezi. I did my primary education at the local school, Tjewondo and my secondary at Mzilikazi High School in Bulawayo. I joined the armed struggle in 1975 coming from South Africa where I had been working. I was trained at Morogoro and deployed to the front in January 1977 and I operated with the likes of Cdes Mafutha, Assaf, Bob, Dwala who was our commander, John Chironda, Matshiya, Andrew Ndlovu and Magwaza. My first successful operation was when we destroyed a bridge in the Tinde area. There were many successful battles that I was involved in and later on my task was to move the newly deployed soldiers into different areas. After Independence I was attested into the army as a Captain and rose through the ranks until my retirement in 2006.
NB: In our next issue we speak to one of the former body guards of Cde Mangena, Cde Ben Ncube. Don't miss your copy of the Sunday News for that riveting interview.