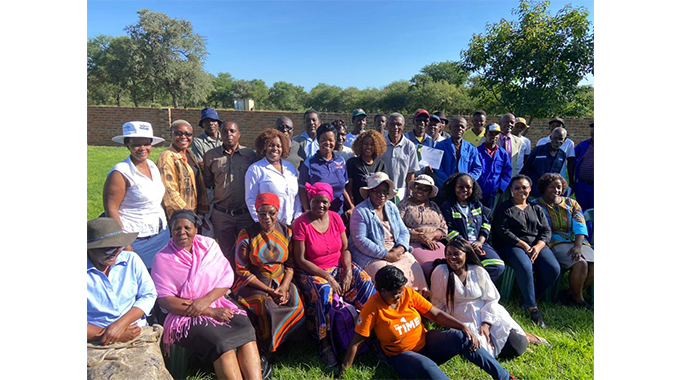 The Sunday News
Judith Phiri, Business Reporter
FARMERS in Bubi District, Matabeleland North Province have been urged to take goat farming as a business and migrate to higher-value breeds so as to generate income.
An increasing number of farmers in the country are keeping goats due to the high profits from the goat farming business, while demand for goat meat and hides has also become high. Speaking to farmers during a goat breeding workshop that was held at Nkenyane Shopping Centre, Vulindlela Trust director Mrs Klwinti Homela said their goal was to conscientise farmers on goat farming as a business.
"Our organisation is guided by the Sustainable Development Goals (SDG) 1 which seeks to ensure that there is an end to poverty in all its forms globally. So, this is what really drives us, as we thrive to unlock the hidden human capital with our target being mainly communities which we live in and this is the community we come from where we have our homestead in Nkenyane, Ward 14 of Bubi District.
We carried out this goat breeding workshop to assist the community particularly women, and youth to train them on how to breed goats and breed them as a business that can make them profitable."
Mrs Homela said as a trust they had developed a community buck initiative that will see the vulnerable in the community being able to develop better breeds to increase goat meat production. She said their aim was to assist the community to improve their welfare and livelihoods.
"The main goal is to see a community in which available resources are made use of. As Vulindlela Trust we want to nurture and support the development of responsible citizens, especially here in rural areas so that people can be self-financed, subsistent and not donor dependent. Farmers should be able to absorb the adverse effects of climate change and overcome them," she said.
Mrs Homela said working with the Government through the Ministry of Women Affairs, Community, Small and Medium Enterprises Development, there was a need to tackle gender and community issues by empowering women and youths.
Mrs Homela said their plan was to assist the first cohort which they trained for the next six to eight months in a series of other trainings to ensure they acquire all the requisite knowledge and skills of goat farming as a business.
She said their next training was scheduled for May where they are going to focus mainly on breeding practices and the next one after that will focus on disease control and nutrition.
"At the end of the year, we would want to see a farmer who has a good quality breed of goat, a well-established structure, and is well-capacitated. They should be then able to compete on the market while sustaining themselves and their families."
A participant during the training programme, Ms Sibongile Ndlovu described the workshop as an eye-opener and said as a farmer, she was considering higher-value breeds so as to generate an income.
"Alone we were breeding a few goats just for consumption by our families, but we have now acquired knowledge on how to take goat farming as a business.
The training covered aspects of goat breeding, feed, disease control, best management practices, and goat production as a business, a concept which is new to us but we are eager to adopt," said Miss Ndlovu.
Nkenyane Village head Mr Stephen Sithole said training of the community by Vulindlela Trust was a great initiative, as they got the know-how of goat breeding as a business.