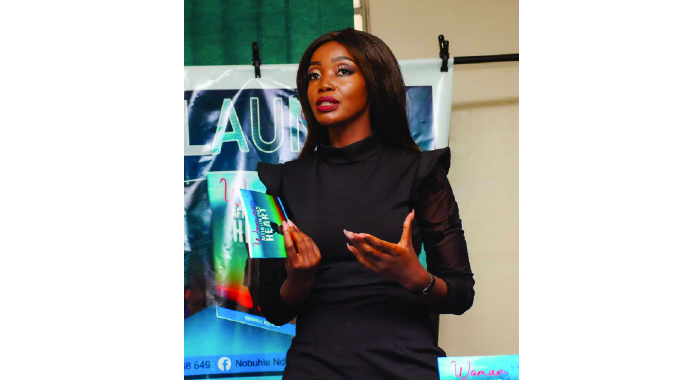 The Sunday News
Samantha Munyurwa, Sunday Life Reporter
A PLUMTREE-BASED artiste has launched a book entitled Woman after my heart, which is a Christian motivational book that guides Christians on the way to live and be happy in God's love.
The writer, Nobuhle Ndlovu, is a passionate young woman driven by love for the work of God. She is a conservationist at heart and philanthropist.
Having spent most of her childhood and adult years in Plumtree town, she possesses an excellent work ethic both at work and also in the work of the Lord. The author fellowships at
Kingdom Cathedral Ministries. Her passion for impacting lives positively cannot be missed by anyone who is privileged to interact with her.
She says that she was inspired by the Holy Spirit in order be able to write well, and be able to make it in life.
"My writing journey was inspired by the Holy Spirit. I went into a journey of self-discovery as a person. I wanted to understand my purpose through the eyes of God.
Through much meditation, prayer and fasting,  the Holy Spirit began to minister a bigger picture of a woman (married, preparing for marriage or single). I decided to share these insights with everyone.
"This book in short looks at a woman through the eyes of the Lord. The book is divided into two sections where the first section looks at three different women in three different stages of life.
All the struggles she faced and how she overcame them as an inspiration to every woman. The married woman and what's expected of her, the single woman preparing for marriage.
In this section I discuss about what I call "preparation time" for the woman. This is the time when God trains and enables the woman for a role she will play in marriage and discovers herself before letting the other person into her life. Self-understanding is very critical before marriage as it also determines compatibility.
I look at single woman. Single mother, divorced. All these three women are equally important in the eyes of the Lord, the second section I narrow down to a prototype, a woman who I believe her struggles we can all relate to in scripture. Her name is Ruth," she said.
Ndlovu (31) said she was attached to her writing and was not yet married as she was trying to set her priorities straight first.
"Not yet married. At the moment I juggle work with writing. I just find time during the 24 hours of my day to reflect, meditate on the word of God and find inspiration and jot that down. The book launch went on very well. The support
I got and have been getting has been remarkable.  This is my first book, so at the moment I am still finding my feet in the arts industry. I am hopeful after a series of book publications I will be able to share my success stories and currently I'm working on my new project."
Nobuhle has God to thank throughout the journey.
"First of all, I am grateful to God. Generally, for me writing is a journey. This journey wouldn't have been possible without the Grace and Provisions from God.
Worth noting is my Pastor from Plumtree Kingdom Cathedral Ministries. Apostle Blessing Maposa. He has played a pivotal role in edifying scripture and giving insights and understanding to scripture and biblical concepts on this book. Secondly, Pastor Qiniso Mpofu, Senior Pastor at Grace Divine Ministries, an author of four books.
He has mentored me through the journey, played a role in the editing of the book giving it the appeal it needs. He has been there every step of the way. He has connected me to other writers in my genre. I believe he has been God sent to make this book a reality."