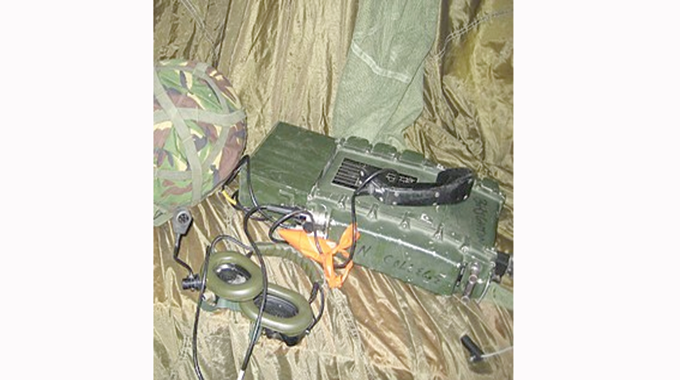 The Sunday News
Today we continue with our interview with Retired Colonel Tshinga Dube, the former Zipra chief of communications, Cabinet Minister, chief executive officer of the Zimbabwe Defence Industries (ZDI) and board member of some parastatals. 
In our last two editions Rtd Col Dube whose pseudo name was Cde Embassy spoke to our Assistant Editor Mkhululi Sibanda (MS) about how he joined the armed struggle in Zambia, training in the then Soviet Union, deployment in a unit of 10 in the Tsholotsho District of Matabeleland North where they were the first guerillas to operate there and later on how he was arrested by the Botswana government for violating that country's immigration laws before being deported to Zambia after spending a year in prison. Below he continues the interview by talking about his deployment to the Soviet Union to become Zapu's representative.
MS:  You were later on sent to the Soviet Union, what was your role there?
Rtd Col Dube: It was in 1972 when I returned to the Soviet Union, this time to take up the role of being the party's representative there. During my tenure there I took the opportunity to go to school and study. I did a degree in engineering, electro technique at MADI. My studies involved combining mechanical and electric courses. It was a good course.
MS: Then your duties as the party representative, what did that mainly involve?
Rtd Col Dube: I was to liaise with the Soviet Government representing the party. It was during that period that more recruits were coming to the Soviet Union for training and also I had the duties of receiving our party delegations to the Soviet Union. A number of our leaders visited the Soviet Union for strategic meetings, the party President, the late Dr Joshua Nkomo came with his delegation that included his personal assistant, now Zanu-PF National Spokesperson and former Cabinet Minister as well as former diplomat, Cde Simon Khaya Moyo. There were visits also by other senior party leaders such as then Secretary-General, the late Vice-President Joseph Msika and then party National Chairman, Samuel Munodawafa and Jason Ziyapapa Moyo, who was party's Vice-President. The meetings were for maintaining the Soviet Union support, such as providing military hardware for our armed struggle. At times party officials would visit the Soviet Union for health reasons, those who would be seeking medical attention. So my duties varied, but mainly they were of diplomatic nature. I prepared visits and also worked closely with our students who were studying in the Soviet Union. At times our students would fund-raise and it was my duty to channel that money to the party headquarters in Zambia. 
MS: You served in the Soviet Union until when?
Rtd Col Dube: I returned to Zambia after spending five years in the Soviet Union. I returned to my old rank of chief of communications in Zipra. That was after the commander-in-chief of the Zipra forces, Dr Nkomo ordered that I return to the military side of things. I should spell out that when I left for the Soviet Union when I was chief of communications, my deputy, Zwafa Moyo, the elder brother of the current Air Force of Zimbabwe commander, Air Marshal Elson Moyo took over. When I returned to Zambia the situation was changing, it was during the period when Zipra was preparing for the final onslaught on Rhodesia.
MS: Under such a situation how did your department come in? What was the role of communications?
Rtd Col Dube: Military communication is very essential in operations, essential for command and control not only for the guerilla units, but also the regular forces as well. In 1978 Zipra was preparing battalions for the final onslaught into Rhodesia.
MS: In your department of communications, may you please tell us how it was like?
Rtd Col Dube: We had sophisticated good radios, which were powerful enough and better than what the Rhodesians had, we beat the Rhodesians in that. We even intercepted the Rhodesian security forces communication. You know as for the Rhodesians, the military used coded language while the police communication system used open language that compromised their system. We could get information on when they had a contact at such and such a place, their intentions, operations and all their activities. However, as for ours it was very difficult for the Rhodesians to crack, even in the event that one of our guys was captured it was not going to be easy for the Rhodesians. So in terms of communication I can safely say we had an advantage over the Rhodesians.         
MS: Did you have enough equipment in your department?
Rtd Col Dube: We were well equipped as in the later stages of the war, a section, platoon and all the units could have their own radios and also have a back-up system. Communication is a specialised area.
MS: Who were some of the comrades that you worked with in your department?
Rtd Col Dube: Besides Zwafa who unfortunately died in Zambia during a Rhodesian raid there was Timothy Mawarire, who passed on in an accident soon after we gained our Independence, Scotch (Bulukani Masola), Claydon Seula, who until a few years back was commander of the Zimbabwe Prisons and Correctional Services in the Matabeleland region, Brigadier-General Maseko and Nhare among others. Others are still serving in the different security sectors of our country and are high ranking officers. A number of them joined our ranks when they were very young.
MS: As a member of the High Command may you please give us an insight of what was happening in your meetings.
Rtd Col Dube: The meetings generally focused on drawing up plans, revising what was happening at the front, coming up with strategies and so on. Among members of the High Command were besides the commander, Lookout Masuku, Tshangane (late Major-General Jevan Maseko), who was the chief of staff, Tshile Nleya, Eric Nyawera (chief  of transport), the current Zimbabwe Defence Forces commander, Philip Valerio Sibanda, who was the chief of reconnaissance and Mike Reynolds (late Brigadier Charles Grey) who was the chief of operations. We worked closely with the intelligence department, which was headed by Dumiso Dabengwa, the National Security Organisation (NSO). In a war situation intelligence is very critical. Even among our troops at the front the NSO had attached its officers.
νTo be continued next week with the last instalment