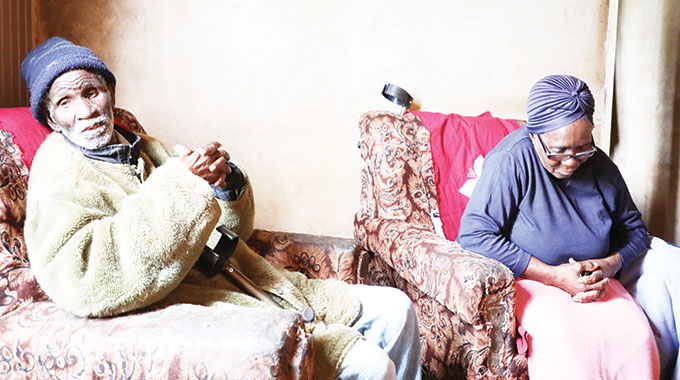 The Sunday News
TODAY we round up our interview with Cde David Mongwa Moyo aka Sharpshoot a pioneer guerilla fighter during the country's armed struggle. 
In our last week's edition Cde Moyo spoke about how he participated in the resistance against the colonial rule in the early 1950s before leaving the country to join the armed struggle in Zambia. He was later on sent for military training in North Korea together with cadres such as now former Manicaland Resident Minister and Governor, Cde Tineyi Chigudu. Below is the continuation of the interview with our Assistant Editor Mkhululi Sibanda (MS). 
MS: Last week you spoke about your training in North Korea. How was it?
Cde Moyo: The training was very tough, we did guerilla warfare, commando training and went through other things such as psychology, which was to prepare us mentally during tough situations in the war. I was an outstanding recruit to the extent that the instructors would ask me to demonstrate to my colleagues what they would be teaching us. I became a mini-instructor. It was during our training that we were visited by the Zapu leadership. Cde Jason Ziyapapa Moyo who was my relative came to visit us in the company of George Nyandoro, uMagigwana. In fact JZ was my younger brother. 
MS: Then to take you back a bit, how did you break through the Rhodesian border after you had caused such mayhem in Kezi when you were part of the volunteers who resisted the white colonial rule.
Cde Moyo: As a result of fierce resistance of the colonial rule such as the Land Husbandry Act operating in my home area of Kezi where the white regime even named a camp after me, we decided it was time to leave the country. What I did not say last week is that Matshiphisa (Sydney Joseph), the son of Yedwa who was a businessman with stores under his name dotted around Kezi tricked the authorities by leaking false information that I had been seen moving towards Ramagkwebana River, which separates the Zimbabwe and Botswana borders. That was a decoy meant to send the authorities on a wild goose chase and indeed they fell for it. In the meantime my group and I were loaded onto a truck that was carrying goats destined for sale in Bulawayo. When we got to Kezi Business Centre we saw the government's security trucks moving southwards, a clear indication that they were looking for me. The government security forces even sent some aircrafts to hunt us down. We proceeded to Bulawayo without any incident and then left the country for Zambia, from where I was sent for military training to North Korea.
MS: Then after completing your military training in North Korea, where were you deployed?
Cde Moyo: I was deployed in the southern region together with now Retired Colonel Tshinga Dube, who was in charge of communications. We were on a reconnaissance mission.  The year could have been 1965. We are the ones who laid the ground work for the joint Zapu-ANC joint operation, which is known as the Wankie Battle of 1967. People who were already in the thick of things from our military side were Dumiso Dabengwa, I mean commanders. Others were John Dube (JD), Report Mphoko, Ackim Ndlovu while from the ANC side there were cadres such as Chris Hani. For our reconnaissance group, which was made up of 10 men, we were on the ground for almost a year, studying the activities of the enemy forces and we are the ones who even advised on the routes to penetrate Rhodesia. However, at some stages we came under immense pressure from the Rhodesian enemy forces who had detected us. During that period our unit, which also had MK fighters had split into smaller units. We did not go on open battles with the enemy forces, but we had skirmishes here and there.
MS: Now coming under pressure from the enemy forces, for how long did you hold on?
Cde Moyo: We ended up moving across the border into Botswana, which was also a risky move as the Botswana government during that time was sort of hostile towards the liberation movements. From Botswana we would launch our sojourns into Rhodesia where we carried out political orientation programmes for the masses and at the same time studying the activities of the enemy forces. However, that came to an end when we were caught by the Botswana security forces and thrown into prison. We spent many months in the Botswana prison but we were later on released and we returned to Zambia. We briefed the commanders about our operations and I believe most of the things that we had noted were put into their plans for the Wankie Battle.
MS: Turning to your life in general, looking at your age, do you think you are getting the attention you deserve?
Cde Moyo: I have reached a stage where it is difficult to fend for myself. I am old now, I am 93. I know it would sound like I am asking for special treatment, but I am living a difficult life. However, some people have not forgotten me. There are comrades like Retired Colonel Tshinga Dube, who has assisted me a lot in terms of groceries and other provisions at times. I am very grateful for his kindness. Report (former Vice-President Phelekezela Mphoko) also used to chip in here and there. The monthly allowances that I am getting is not enough and I am a living a difficult life. I would be grateful if the Government and my comrades can be of assistance.