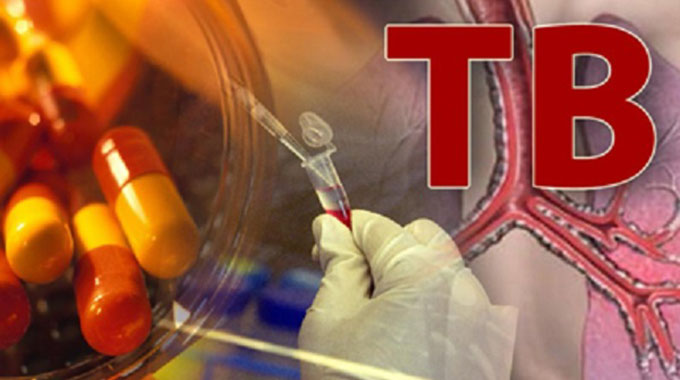 The Sunday News
Kudzai Chikiwa recently in Plumtree
PUTTING on a white T-shirt inscribed "Wahlolwa yin' umkhuhlane oweTB" (have you been tested of TB), Mr John Sibanda (54) who was diagnosed of TB in 2015 and defaulted barely six months into treatment recalled the day when he was driven by omalayitsha from Musina in neighbouring South Africa to his Tshitshi Village home in Plumtree when he got critically ill.
"I was delivered home by omalayitsha when I got seriously ill after defaulting on my TB medication while in South Africa. I almost died," he said.
"I took my medication for six months and when I felt I was fit I decided to go to South Africa to look for a job. For two years I wasn't taking medication and my health started deteriorating. Coughing continuously and losing weight, I started to remember how the doctor emphasised that I should finish my TB course," he added.
Mr Sibanda who did not have a passport then said one day he became critically ill but he could not go to a public hospital for fear of being identified as an illegal migrant and getting deported.
"Just like any hospital, when you get sick they will need your identity particulars and I knew for a fact that it was going to be established that I am a Zimbabwean without a passport. My situation became that of the meat in a sandwich where there were two uncomfortable choices. I was to choose between feigning healthy and continue working for my family or go to hospital and run the risk of being deported," he said.
Mr Sibanda said the first choice made sense to him although his health was showing signs of failure. 
The economic hardships that the country is experiencing are weighing down on people's lives and some have tried to cushion themselves by crossing borders without the requisite papers much to the detriment of their health where those suffering chronic illnesses were defaulting medication.
The need to work and put food on the table has prompted a shift in traditional societal view of the priceless nature of human life to where life is often viewed as something with a price tag that can be weighed against the need for other life comforts.
"Injiva zifela phakhathi ngoba akwenzi ukuthi zihambe esibhedlela (They suffer from inside because they cannot go to hospitals). They deport you and at the end of the day the choice is simply not of going to hospital. You better be a man and look for something to feed your family," he said.
Mr Sibanda's experience mirrors the life of many Zimbabweans who are forced by economic challenges to cross borders to neighbouring South Africa, Botswana and other countries for greener pastures.
Experts say though Zimbabwe has a free treatment policy for tuberculosis, its patients who visit or work in neighbouring countries reportedly default taking medication for various reasons although it has far reaching implications.
Mr Sibanda is one of the few who are lucky to come home alive and manage to restart their courses.
"I went to Plumtree hospital but nurses were mad at me because they had emphasised that I should finish my course. Luckily I managed to take drugs and from my previous review, I am now fit," he said.
His desire is to preach to other Zimbabweans that they should not deliberately default or nail their health on the unforgiving cross of a better life. He is now counselling other TB patients who may have fallen in the same temptation.
"No matter how fit you appear, as long as you haven't finished your course, never quit taking your medication. When doctors give you a course, they know what they will be doing. To those who go to neighbouring countries, make sure you have your drugs and if they get finished please come back home or let someone send you. Life is priceless," he said.
A columnist Cathrine Murombedzi noted in one of her articles that: "In Zimbabwe, one of the biggest health challenges is the consequences of migration in the treatment and follow-up of patients, not to mention the risk of spreading multi-drug resistant TB (MDR-TB) or, in the worst case scenario, extensively drug-resistant TB (XDR-TB) in the Sadc region due to default treatment. High proportions of TB/HIV patients are lost to follow-up due to migration to countries like South Africa and Botswana in search of employment opportunities."
The first national tuberculosis patient cost survey in Zimbabwe recorded that in 2018 a fair percentage of people who contract TB are unaccounted for by the country's health system.
"An estimated 37 000 people develop TB annually and 26 401 are diagnosed and reported while the rest are lost to cross border activities. Those who visit neighbouring countries either default or cannot be traced," the study said.
The country director of the International Union against TB and Lung diseases Dr Christopher Zishiri said financial challenges contribute to failure to access treatment by cross borders.
"Due to financial challenges in the country and level of unemployment, a lot of people are into cross-border trading. Normally TB patients should continuously take their medication but you find out that these crossborders are not willing to go to clinics in the foreign land for fear of deportation as most of them won't be having passports. At the end of the day one risks their health in the name of looking for greener pastures," he said.
He said to some patients continuing treatment in a new country was a challenging and disorienting affair.
"This is why we say there is need to strengthen cross-border policy so that if a Zimbabwean on TB course treatment goes to South Africa today, there should be a facility for them to continue taking medication," he said.
In an interview on the sidelines of the World TB day recently, Zimbabwe's deputy director for Aids and TB Unit in the Ministry of Health and Child Care Dr Charles Sandy said there was need to strengthen cross-border policy with neighbouring South Africa and Botswana for Zimbabwean TB patients to have access to treatment in those countries.
Dr Sandy said there was need to develop regional harmonisation of treatment regiments and protocols as well as regional referral systems for those who frequently crossborders.
"Due to the high transit activity among countries, cases of communicable diseases like TB are likely to increases. Countries should come up with a protocol to ensure there is easy health care provision for those who frequently cross borders."
Dr Sandy said the high numbers like those in Beitbridge are a result of transnational travel and population density.
"Countries have to play a part in reducing the TB cases in border towns," he said. [email protected]