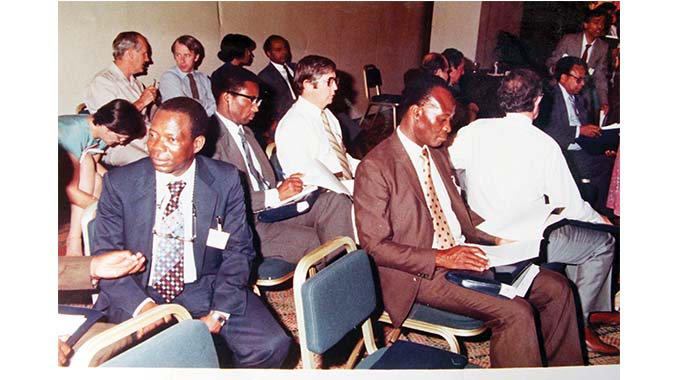 The Sunday News
Mkhululi Sibanda, Assistant Editor
VETERAN educationist and Matabeleland's second black regional education director after independence Mr Eben Kawadza on 15 May turned 90, but the man revered by many in the education sector has lost none of his touch and it seems he is endowed with the strength of the Biblical Samson.
For how does one explain that at that ripe age where his peers either walk with the aid of a stick or find comfort sitting around a fireplace telling their grandchildren folklore, the indefatigable Mr Kawadza is not troubled by the fact, he still wakes up every morning and makes a beeline to Foundation Group of Colleges headquarters in Bulawayo where he heads the institution's Standards Control Department.
It also looks like he is not retiring soon from his beloved profession of imparting knowledge to the youngsters and the director of Foundation Group of Colleges, Mr Message Ncube agrees there are no plans to give Mr Kawadza his retirement package as yet.
Mr Ncube feels the institution, which Mr Kawadza, a holder of Masters Degree in History from Kansas University in the United States of America has served for about 34 years, is still happy with his performance. Sunday News caught up with Mr Kawadza and when he speaks about teaching all the passion comes out and feels strict supervision is the cornerstone of the success of any school. He says the performance of any teacher should be judged by his or her results.
"We measure the performance of the teachers through the results, public examination results are an innocent judge of a teacher's performance and that has remained to this day," points out the veteran educationist who enrolled for a teacher's training at Nyadire Mission in Mashonaland East in 1949.
"The teacher is judged by the children's external results but too often we wait until it's too late but what we have done here at Foundation is that we monitor the performance of the teacher before the final exam and we are able to correct, in fact we involve students in the assessment of teachers and they never make a mistake. They can never say a good teacher is bad and I know the teachers of public schools condemned us for this, but it is the best way to judge a teacher."
When he rewinds the clock and looks back to the transition of the country's education system from the colonial period to the black majority rule, Mr Kawadza said there is vast difference. During the colonial era he said the education system under the Ian Smith regime was characterised by bottlenecks meant to choke the advancement of the black majority in the socio-economic ladder.
"The Rhodesian education had problems because it was divided on racial grounds, the government at that time was spending more money on white education. If I am not mistaken, I think it was spending about $23 per child when an African child was getting either $1 or $2 per annum. That in itself demonstrated the attitude of the whites towards blacks. Then there was the issue of F2 schools which were supposed to train young people in manual skills, that is being a builder and a carpenter. You know practical skills that are necessary on the job market."
Mr Kawadza said as much as there was a need to teach blacks practical skills, the whole concept was racist in nature.
"The F2 schools, we were not very happy about them, the entry point was wrong, they should have come after Form Four, it's technical but it was being introduced at Form One, so the entry point to me was wrong. My feeling is that the pupils should have been allowed to master general knowledge to Form 4. If you look at the concept closely you can see that our polytechnics are now doing what F2 schools were doing, correctly so it is after the children have completed their Ordinary Levels.
"I am a firm believer that Ordinary Level gives everybody enough skills to operate in any society but what was happening during the Smith regime was that after Grade 7, children were placed into the F2 schools when they were too young to learn the skills that were required. They should have been allowed to get to O-level which is what technical colleges are doing today."
On how the serving whites viewed blacks who were being promoted into the posts previously reserved for the whites, Mr Kawadza said his observations were that the whites resisted change and were bitter with the coming in of the black Government in 1980.
"Come Independence, I was posted to Bulawayo from Manicaland where I had been Schools Inspector and initially when I came here I was the deputy regional director under Mr Nathna Tanyongana and after two years in 1983 I became regional director for Matabeleland North and South as well as Bulawayo, it was not provincial director but regional director. Tanyongana had moved to Harare as Deputy Secretary for the Education Ministry. I enjoyed the job, I blossomed, I really blossomed, when I left the ministry teachers whispered to me and said I was the best suited for the job.
"However, some of my observations were that the whites resisted to change, remember I had some working with me as my subordinates, they hated it, they didn't give the respect they were supposed to give me and I didn't mind that, I didn't expect them to greet me but I noticed there was resistance. I came here as the deputy and the offices then were at the Main Post Office Building."
During that period Mr Kawadza remembers that there was excitement within the black community as parents got a lot of satisfaction in sending their children to schools in the eastern suburbs, which were once reserved for whites only. The schools included Eveline, Townsend, Northlea, Milton both Junior and Senior, Coghlan, Hamilton and Montrose.
"The parents knew the schools in the eastern suburbs were better equipped, they sent their children there and they still do it today, those who are able to do it. What I liked about that idea was that there was still competition among the blacks and whites.
Even the black teacher if appointed to the eastern schools they would work hard and demonstrate their capacity to deliver, the white teachers were forced to brace up or they were going to be beaten up in the results and the performance."
On his secret to longevity, Mr Kawadza who began his teaching career in 1949 after acquiring the then Primary Teachers Lower (PTL) certificate, which he initially enrolled at Nyadire Mission in Mashonaland East Province before completing it at Old Mutare Mission when the programme was moved there, has a short answer to that: "An apple everyday keeps the doctor away." His view is that one should have a balanced diet and should not leave out fruits and vegetables in his or her diet.
Mr Ncube, speaks highly of Mr Kawadza whom he describes as a vital cog in the Foundation Group of College's system, saying he has never given the authorities any headaches.
"For a man of his age he is still a self-starter and enjoys a candid relationship with colleagues and he is blessed with robust health. He still drives himself without any problems, mark books, reads without spectacles and in addition to that he walks normally and even runs. You would not believe it, he has not taken any off sick or leave since he came here. In fact, he does not have any underlying health conditions at the present."
Mr Kawadza, a widower counts among his children former Zimbabwe Broadcasting Corporation (ZBC) reporter, Charles.