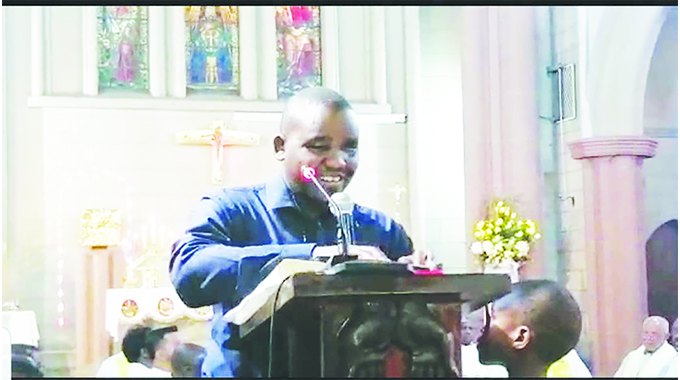 The Sunday News
Robin Muchetu, Senior Reporter
AFTER turning completely blind at the age of three due to glaucoma, Mr Robert Malunda, now 34, has not made his disability a limiting factor.
He was the talk of the service after he made people marvel at his abilities when he read the Bible in Braille last week at the Roman Catholic Church St Mary's Basilica in Bulawayo in a rare show of societal inclusivity. Mr Malunda read eloquently, gently feeling the fonts of the verses that he extracted from his Braille Bible to Catholic congregants from all over the city who had gathered for the Holy Chrism Mass.
The Chrism Mass is held each year during the Holy Week to bless and consecrate holy oils used for sacraments and other rituals. For him, it was an honour to be chosen to read the Bible during this Mass as it symbolised the inclusiveness of the Church toward persons with disability.
After attending McKeurtan Primary School in Makokoba, Malunda enrolled at John Tallach High and Mtshabezi High schools where upon completion he attended the Midlands State University taking African Languages and Culture Studies.
"We had a huge challenge of accessing information as blind people from as early as primary school, Braille reading material was scarce because the manufacturing of Braille materials is expensive. We had to depend on our sighted friends for reading to us information that was written on the board and also for note taking. But when I moved to university, I felt this need for independence and I researched how blind people can use computers. I was at university in 2010," he said.
Mr Malunda said he then discovered that blind people could use any other computer as long as it had software that allows one to screen read. The software reads whatever will be on the screen.
In 2015 Mr Malunda received a scholarship to India where he studied how to run social ventures and eventually started his own organisation called Gateway to Elation where he trains blind people how to use computers and also rehabilitates the newly-blind so that they learn Braille. Last Tuesday was a proud moment in his journey as a visually impaired Christian when he had to stand before the Church and read the Gospel.
"I was asked to read the second reading of the Bible by the Parish Priest Father James Batsirai. There is a Catholic initiative called Synodality where they are saying they do not want to leave anyone behind, they want to include everyone in the liturgy of the Church. This was an opportunity for me to show the world that persons with disabilities can be integrated into church activities, and also to show that Braille can be added to the church system so that everyone is catered for. I did not know that it was going to be a Mass of that magnitude as many priests, sisters, and representatives from all parishes were represented," said Mr Malunda.
When he was told he would read, he said he assumed it was just a usual Mass but it was not.
"I felt humbled and honoured to have been chosen to be part of the liturgy of the Chrism Mass because I showed how people with disability can be included spiritually and somehow it trended and people are asking me about it. I think Father Batsirai also said in the history of the Dioceses, that was the first time that readings were done in Braille," he said.
Mr Malunda, however, explained that Braille materials are bulky and he cannot carry the whole Bible easily.
"Braille is bulky, I cannot bring it all here, there are parts, however, ours comes in volumes and you pick the one you want to use. I read in IsiNdebele on Tuesday so I used an audio Bible, confirmed with the Braille in English as that Bible is available in English only then I had to write that scripture in Braille then practiced and read it during Mass," he said.
Mr Malunda who is in the Parish Council where he represents persons with disability to identify how the church can integrate disabled Catholics on how to participate in activities in the church.
With the experience that he has with his own organisation, he believes he can work with the Church in inclusivity and interpretation. Mr Malunda, however, lamented the unavailability of Braille materials saying the Bible they use at his church was brought in from abroad.
"There are organistions that distribute Braille Bibles internationally and we asked them to send us one.
There is also the Xavier Society for the Blind, they provide Sunday Readings and special readings for the Catholic Church. The Dorothy Duncan Braille Library also provides materials but mostly school textbooks only. It really is a challenge, when I did my Ndebele Literature at high school, there were no Braille books in that language, they were only available in English," he lamented.
He said for examinations at the schools he attended, he wrote in Braille and specialist teachers would then transcribe his work into writing and it would be marked just like all other students' work.
When he attended university, he would type on a computer and print for the teachers to mark. However, he encouraged computer literacy among the visually impaired so that they access audio literature which makes life easier for them.
He also lamented that the issue of copyrights saying recording textbooks for use in schools and loading them on computers was illegal without the consent of the author.
"We do hope that on a local scale, we get copyrights wavered for visually impaired people as it is worldwide," he said.
Archbishop Alex Thomas — head of the Roman Catholic Church in the Archdiocese of Bulawayo said the church was taking a leading role in promoting inclusivity in their activities. Archbishop Thomas said the reading of the Bible excited the congregation.
"Persons with disabilities have been sidelined for a long time so we decided last year as a Church to start including them so that they also benefit from our activities. People were amazed and impressed to have the reading from a Braille Bible by Robert Malunda and we are going to do more of this as we want to promote inclusivity," he said.
Mr Malunda got blinded due to glaucoma at an early age and said he was glad it occurred in his formative years as he quickly adapted to his new way of life and managed to attend the school nearest to his home since he lived in Makokoba. Bulawayo does not offer exclusive schooling for visually impaired persons and students have to go to schools such as Mtshabezi Primary in Gwanda District and Copota School for the Blind in Masvingo. — @NyembeziMu