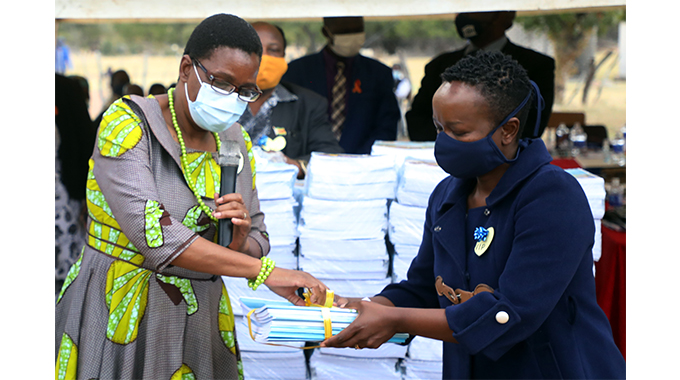 The Sunday News
Robin Muchetu in Matjinge, Senior Reporter
A NON-GOVERNMENTAL Organisation, Plan International has launched an Accelerated Learning Materials programme under the Supporting Adolescent Girls Education (Sage) programme in Bulilima District, Matabeleland
South that will see learners who are not in formal school receiving learning materials.
Plan International country director Dr Angela Muriithi, speaking at the handover ceremony at Matjinge Primary School on Friday, said their aim was to keep all children, especially girls, in school.
"Our aim is to ensure that every child completes a quality, inclusive education that covers at least early learning, primary and secondary education in formal or non-formal settings, at the appropriate age, in a safe and supportive learning environment. For us as Plan International, education serves both protective and transitional objectives. We have seen this clearly when a significant number of girls within our context were unable to return to school after the long Covid-19-induced lockdown," she said. Plan International said its distinctive contribution to education is to strengthen inclusion, gender equality, continuous and holistic education across different institutional settings. Dr Muriithi said education was now an emergency and humanitarian crisis.
"The Covid-19 pandemic has created the largest disruption of education systems in history. The education cluster noted that one of the more than 3,4 million children of school-going age (three to 12 years), at least 1,2 million (35 percent), would need emergency and specialised education services in 2021. This includes more than 853 000 children in acute need of school feeding," she said.
The crisis, she said, is exacerbating pre-existing education disparities by reducing the opportunities for most vulnerable children, youth and adults — those living in poor or rural areas, girls, persons with disabilities, children living with HIV and those in need of school feeding.
Plan International also noted that learning losses also threaten to extend beyond this generation and erase decades of progress. The organisation said some children may be forced to drop out or not have access to school next year due to the pandemic's economic impact alone.
The Permanent Secretary in the Ministry of Primary and Secondary Education, Mrs Tumisang Thabela, said the materials handed over to the learners will ensure continuity of learning.
"These materials have come at an opportune time when the ministry is making efforts to ensure continuity of learning during these difficult times of the Covid-19 pandemic. The impact of the lockdown has had far reaching consequences, particularly in the education sector, where all children have been unable to go to school. In this regard, we would like to thank Plan International and its funding partners for taking heed to our call for partners to support the ministry in developing teaching learning resources during the Covid-19 pandemic," said Mrs Thabela.
She said the materials donated were going to cater for schoolchildren that are in need of basic education support as well as those lower primary grades. She said it was the ministry's hope that Plan International and other education partners continue their work and extend the provision of teaching and learning materials to other grades.
"The materials being launched complement the spectrum of available print materials covering all primary grades, thereby ensuring that no learner is left behind. The SAGE books are aimed at improving the learning environment for learners in our schools around Zimbabwe," she added.
Mrs Thabela commended Plan International for being innovative in the advent of the Covid-19 pandemic through the roll out of the SAGE project using non-contact-based methods by providing remote mobile phone support to learners to help continue on their learning journey. The books will cover from Early Childhood Development up to Grade Five. — @NyembeziMu