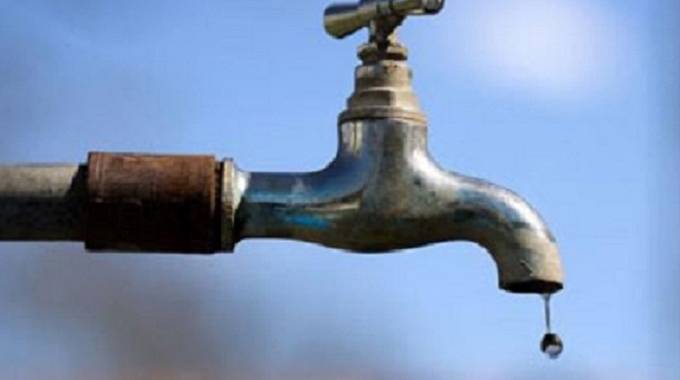 The Sunday News
Vusumuzi Dube, Senior Reporter
BULAWAYO residents are currently enduring a 48-hour water shedding regime, in what has become an annual problem for the past decade. Every time when water shedding is introduced the local authority is usually quick to come out with all academic reasons to justify the shedding period.
The phrase "perennial water shortages" has become synonymous with statements released by the local authority around this time of the year.
The local authority is also swift to introduce a water crisis committee meeting to help "manage the crisis".
This year the local authority has been talking about "depleting reservoir levels" for the past couple months, which saw water shedding starting off at a minimal in the high density suburbs to a full blown 48-hour water shedding regime in the entire city.
Last Wednesday, the city's mayor, Councillor Solomon Mguni introduced a new narrative to this crisis when he revealed that to add on to the dwindling water levels there were pipe bursts, power outages and an eventual surge in water consumption by residents, this forcing the local authority to increase water shedding from an initial 36-hour period to 48 hours.
So intense and confusing is this year's water shedding regime that after residents endured a 36- hour shedding period council then announced that residents will endure a further 24-hour weekend shedding bringing the shedding period for that week to 60 hours.
While natural occurrences are unavoidable in terms of water delivery what then boggles the mind is why the local authority has to wait till the last minute for them to declare a crisis.
The local authority has a body of councillors and officials, under the banner; Future water supplies and water action committee that sits at least once a month meant to plan the city's future water supply and usage with the objective of avoiding such emergencies.
The committee is made of six councillors and the director of engineering services, Engineer Simela Dube and Director of Health Services Dr Edwin Sibanda.
One then wonders how eight individuals who also superintend a council department of engineering services failed to foresee a crisis in the horizon and come up with measures to help avoid it.
Hard done by the water shedding and the inconsistencies thereof, some residents are venting their anger on the local authority for not adhering to their advertised water shedding schedule alleging that in some cases they have gone for over 72 hours without water.
Responding to the concerns, Mayor Clr Mguni through Twitter said he would be addressing the matter before last week's full council meeting.
"On 11 January 2019 there was a pipe burst at the Y-junction of Mtshabezi and Mzingwane dams leading to isolation of the two dams and loss of a possible 32 mega litres of raw water to the city a day. On 14 January 2019, a violent week long stayaway grounded all council operations and it became impossible to repair the burst. Repairs only resumed on 19 January 2019 and were completed on 22 January 2019.
"During this 11 day period there were also power supply interruptions leading to a halt in conveyance of both raw and treated water from Ncema and Fernhill. On 24 January 2019 there was a massive power surge that damaged the control panel at Mzingwane and in the process rendering three out of four pumps out of service. This further compounded the problem, as inadequate water was being pumped from Mzingwane Dam," said Clr Mguni during the full council meeting.
The mayor said while the reservoir levels continued to drop consumption continued to soar from an average of 142 mega litres to 147 mega litres a day, against a combined pumping of 108 mega litres a day resulting in a deficit of 39 mega litres a day.
"The raw water reservoir requires at least two weeks of uninterrupted supply for it to recover to about 75 percent full capacity. Council has also taken urgent steps to procure new control panels for pumps at Mzingwane and Inyankuni dams. We anticipate the new Mzingwane control panel to be in place within the next three to four weeks.
"I urge residents to be patient with us as we endeavour to stabilise the water situation. Council will continue to update consumers of the water supply status regularly through various media platforms," said the mayor.
But the question remains — for how long will the people of Bulawayo be patient with the city's leadership regarding the perennial problem?
For how long will the city talk of various projects meant to alleviate the crisis in the future?
What boggles the mind is that a lot of projects have been identified but they have become mere pies in the sky.
The first major project to come to mind is the now over a hundred-year-old Matabeleland Zambezi Water Project, there was also talk of increasing boreholes pumping at the Nyamandlovu Aquifer through the Epping Forest (a project which is always nearing completion), also residents were made to contribute $1 each every month, in what was termed a water levy meant for the duplication of the Insiza pipeline, once again the project has failed to take off for one academic reason or the other.
There has been talk of construction of a new dam — Glassblock — with talks that a potential investor had been identified but once again this talk was only made in the media with nothing tangible on the ground.
With everyone in agreement that something really needs to be done to address one of the city's longest challenges, it becomes odd that nothing concrete has been done. One will even be forgiven for thinking that the city's public relations department has the easiest tasks of recycling water shedding speeches for their mayor and council officials every year in January seeing that every year the city is befallen by the same occurrence.
This week Sunday News spoke to various stakeholders to get their perspective on the water crisis and what needs to be done.
As if responding to this publication's enquiries, ward 22 councillor, Rodney Jele while contributing during the full council meeting blasted the city's engineering department for failing to foresee the crisis and always waiting till the very last minute to note the crisis.
"We must always plan ahead as a local authority not to wait till the very last minute. We are a big and respectable local authority and we employed engineers who went to school to specialise in water delivery.
"Even myself as a layman I know we should always have spares so that whenever there is a burst we are ready to fix it rather than being caught off guard. Further this issue that we always wait till the very last minute raises a lot of eyebrows in terms of our planning," said Clr Jele.
Bulawayo is a perennially "thirsty city" and has struggled to secure sustainable and long-term water resources for its citizens for over a century now. Women bear the greater burden triggered by the water crisis. One question that comes to mind each time the issue of water shortage in Bulawayo is raised is: "Is Bulawayo's water problem man-made or a result of natural causes?" Of course the water stress can be attributed to several factors, including economic decline, geographical location, and climate effects, however, it has been exacerbated by limited human intervention and poor planning on the part of successive councils. This is an enduring problem for Zimbabwe whereby citizens continue to experience water problems even when water sources are full such as in Harare. Zimbabwe is a nation with over 10 000 dams.
Bulawayo Progressive Residents Association acting co-ordinator, Mr Emmanuel Ndlovu said the local authority was not planning to solve the city's water problems but was instead planning to just manage a crisis.
He said BCC should stop "crisis management" and have a water management framework that goes beyond crisis.
"What Bulawayo City Council is doing is to manage the crisis, with water shedding starting when water is almost running out. The water shedding programme started last week but already residents have gone for long periods without water, ranging from 12 to 48 hours a week or more.
"Insufficiently trained water resources personnel; population growth; aging infrastructure; lack of funds; corruption, among others have worsened the crisis. The current signs we see due to the water crisis are symptomatic of worse things to come if the problem is not addressed," said Mr Ndlovu.
He noted that the local authority must push for residents oriented water reforms that would once and for all bring a solution to the water issue.
"Bulawayo needs another substantial water supply option as soon as possible, fair access to water by all residents, improvement of the management of water resources, increased protection of the environment, improved administration of the Water Act and refurbishment of the water system," said Mr Ndlovu.
Bulawayo United Residents Association (Bura) chairperson, Mr Winos Dube had no kind words for the local authority saying heads have to roll in the council chambers as someone was sleeping on duty.
He said the local authority knew at the end of the last rainy season that the city had a perennial water problem hence should have started planning from then to help prevent the crisis the city was currently in.
"We are being invited to a water crisis committee meeting now that there is a crisis, honestly someone within the local authority is taking us for granted. Such a committee should be permanent to help manage water resources in the city knowing that the city has a perennial water problem.
"I also believe the local authority has a lot of question which have to be answered. They should explain the $1 per month water levy which residents are made to pay, first we were told that it was for the duplication of the Insiza pipeline then we were told it was for the completion of the Epping Forest Project about two years ago but till today nothing has come out of this project," said Mr Dube.
He said the local authority should go back to the drawing board and seriously look into the water problem and see to it that it prioritises all the short term water projects so as to give residents a solution of some sort.
Former Bulawayo mayor, Alderman Martin Moyo said while the water crisis was inevitable, there was need for a long term water solution to avoid the local authority being caught off guard.
"Council knows that the city has a perennial problem hence they should put in place measures that will see that whenever they are faced with a pending crisis they are always prepared," said Ald Moyo.
So as the city continues to ponder on where we are headed in terms of the water situation, as we pray that the Lord blesses us with reliable rains this rainy season one thing for sure is that we need to develop more water sources that will see us solving this pending crisis.
As former USA President, Benjamin Franklin once put it; "When the well's dry, we know the worth of water", indeed the people of Bulawayo are feeling the pinch of not having access to water for long hours a week and the local authority must make a plan to resolve this crisis.