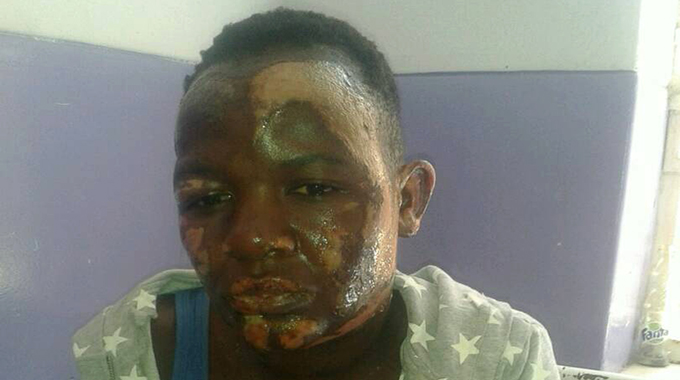 The Sunday News
Thobekile Khumalo, Sunday News Reporter
A 32-YEAR-OLD Bulawayo woman suffered serious facial burns when she was  allegedly doused with paraffin and methylated spirit before being set alight by her husband when he discovered that she was planning to leave him.
The woman, Ms Joan Zvaodzamoyo from Mzilikazi suburb is admitted at Mpilo Central Hospital where she is receiving treatment. The incident occurred at around midnight on Tuesday last week.
Narrating the tear-jerking incident in an interview with Sunday News, the woman's father, Mr Fortune Mawanga, said the incident happened after her daughter's husband Lawrence Dube (41) found out that she was planning to move out after failing to cope with  marital problems they were having, which he said were allegedly caused by the husband's sister's abusive behaviour towards his daughter. The two have three children together.
Ms Zvaodzamoyo was burnt on her face in her sleep when her husband allegedly sprinkled paraffin and methylated spirit and then lit her. He went on to cover her with a blanket before running way. He is still at large. 
"The couple has been living together for over 14 years although Dube never paid lobola to the family," said Mr Mawanga.
He said the couple's relationship was rough sailing for the better part of the past few years and Ms Zvaodzamoyo had decided to quit the marriage.
"What hurts the most is that her children are the ones who saw what happened and had to go through such a traumatic experience of seeing their mother being burnt by their father, having to go out and look for help in the middle of the night while Dube's sister was there in the house sleeping, acting as if she did not hear the screams," said Ms Zvaodzamoyo's sister, Bekezela Kawiro.
After allegedly burning her, the husband is said to have stolen her money and left. The husband was reportedly not taking care of the children and it had become the woman's duty to pay school fees for them. The case was reported to the police.