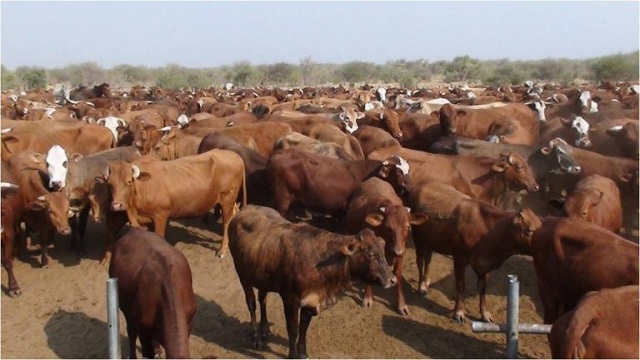 The Sunday News
Dumisani Nsingo, Senior Farming Reporter
PRICE disparities in the livestock market emanating from the prevailing cash crunch have impacted negatively on efforts by farmers to get meaningful returns from their agricultural enterprises.
Communal farmers are failing to realise any meaningful profits from their livestock, especially cattle, owing to cash shortages prompting them to sell their animals for a song.
Livestock specialist Mr Mhlupheki Dube said communal farmers were the ones that are largely feeling the brunt of the cash crisis as they constitute the largest number of people dependent on livestock trading.
According to statistics from the Ministry of Agriculture, Mechanisation and Irrigation Development the cattle population in Zimbabwe is estimated to be between four and five million with a larger proportion of the cattle population (3,5 million) found in the communal area.
"Cash crisis is a serious challenge in livestock marketing because the farmers involved are not ready to use plastic money. Most of the national herd is with smallholder farmers, who constitute 70 to 80 percent of the livestock and these are ordinarily rural folks most of whom may not have bank accounts while some are based where there is no mobile phone network or signals. It's useless for a buyer to make electronic money transfer when the farmer won't be able to make any transaction. They need for them to pay for goods and services just like anyone else," said Mr Dube.
He said the shortage of cash was also impeding farmers' efforts to properly manage their animal productivity and health as the Department of Veterinary Services does not have electronic monetary devices for them to pay for services.
"Cash shortages are also a challenge in that for dipping services the Department of Veterinary Services demands cash and they don't have Point Of Sale machines. In actual fact, most of Government's departments don't have any applications for electronic transactions.
"Since it's Government, which is encouraging the public to adopt the use of plastic money, thus it should walk the talk first and ensure that all its departments have these devices as well as incentivising mobile operators to embark on extensive coverage," said Mr Dube.
The cash shortage has also impacted negatively at Government's initiative of decentralising cattle auction sales as most of the rural points have virtually turned into while elephants as only a handful of buyers are now patronising them due to a slump in business.
The decentralisation of cattle auction sales at the instigation of the Ministry of Agriculture, Mechanisation and Irrigation Development in 2015 as one of the initiatives to control the spread of Foot and Mouth Disease (FMD) outbreaks had culminated in increased economic activity in communal areas.
"As a result of the cash shortage some of the auction pens that were re-opened as part of the decentralisation initiative are non-functioning or are functioning at optimal level because buyers aren't going to those places and the smallholder farmers are hesitant to sell their animals. Only some affluent farmers are taking their animals to lucrative markets," said Mr Dube.
He said cash shortages have resulted in the introduction of a three-tier pricing system, which has all but seen desperate farmers being fleeced as they are forced to part with their animals for a song.
"Because of cash shortages we already have pricing disparities in the livestock market where there is a cash price and for electronic transfers. For instance the price of commercial beef carcass is around $3,20 but it goes down to $2,60 if a buyer pays in cash and sometimes farmers are paid over a period of up to two weeks," said Mr Dube.
Cattle Company (CC) Sales sales director and auctioneer Mr Richard Wakefield acknowledged the existence of a three-tier pricing system in the livestock market stating that the buyer was now determining the price.
"In a nutshell — if a cattle buyer can pay cash he will offer 30 to 40 percent less than the cattle are worth and as the seller is often desperate for immediate cash for a funeral, medical, emergency travel or the like, he or she will accept the discounted offer.
"Unfortunately plastic money and EcoCash has its enormous challenges in the rural or communal areas where the vendor is unlikely to accept payment for his goods without cash payment and is certainly unwilling to give cashback through EcoCash or any other form of plastic money," said Mr Wakefield.
Renowned livestock production and management expert Dr Ronny Sibanda said the fact that most communal farmers were yet to embrace the use of plastic money for transactional purposes was stifling livestock trade.
"Lack of cash is affecting the livestock sector in that it makes it difficult to complete trade transactions as producers want cash while buyers are not able to provide it.
"There are also financial and technological literacy problems with the majority of smallholder producers yet to be familiar with mobile money system and technology . . . ," said Dr Sibanda.
Mangwe Farmers Association chairman Mr Adam Bango Dube said private abattoirs were offering farmers non-viable prices for their livestock.
"The price of cattle has plummeted to unprecedented levels. Cattle farming is proving to be an unprofitable business as it is. I recently attended a cattle auction sale in Matobo and most farmers were forced to return home with their cattle as a result of the appalling prices that were being offered for their animals while some ended out selling them out of desperation. It's, however, surprising that the price of beef at butcheries and retail outlets hasn't gone down," said Mr Dube.
@DNsingo