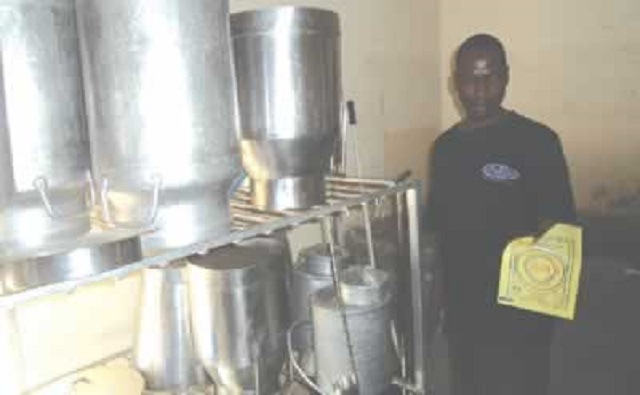 The Sunday News
Dumisani Nsingo, Senior Farming Reporter
UMZINGWANE Dairy Co-operative Society Limited in Matabeleland South Province is working on increasing both its dairy herd and milk production densities as it forges ahead to ensure the viability of its enterprise.
Umzingwane Dairy Co-operative Society Limited chairperson Mrs Sheillah Lupuwana said the number of members' dairy cows have over the years been decreasing mainly due to the effects of drought and theft.
"Our stock has over the years been declining due to drought related deaths as well as theft. I lost nine of my cows last year to thieves, four of them calves. Some members also suffered the same predicament," she said.
Mrs Lupuwana said the co-operative was set to benefit $3 000 from Umzingwane legislator Cde William Dhewa through the Constituency Development Fund (CDF), which would be channelled towards purchasing improved dairy breeds.
"We have been promised that we are going to be allocated $3 000 under CDF and we intend to use that funding to buy dairy cows to boost our herd.
We will consider buying the Jersey breed because it can easily adapt to different climatic conditions," she said.
The Government introduced the CDF to enable legislators to spearhead community development projects in their constituencies. Umzingwane CDF technical committee chairperson Mr Moses Mhambi confirmed that the co-operative was going to be allocated funding to boost its dairy herd.
"We agreed as a technical committee that we give them a boost of $3 000 to enable them to purchase some milk cows. We were looking at projects in Umzingwane District to be assisted under CDF especially those with impact on the livelihoods of people directly and the group had initially applied for funding from one of the Government Ministries and we felt they deserved to be funded," said Mr Mhambi.
Mrs Lupuwana said milk deliveries at the co-operative's milk processing plant, Umzingwane Milk Centre was being hampered by lack of a refrigerated storing facility.
"We have a big challenge when it comes to storage because we don't have a refrigerated tank and as such we can't afford to store large amounts of milk because it will perish and we make losses," she said.
Umzingwane Milk Centre manager Mr Cleopas Ndlovu said the co-operative's members were delivering 500 to 600 litres a week.
"We are getting 500 to 600 litres of raw milk a week from 36 farmers. We produce cultured milk for sale and even sell the raw milk. We, however, need deliveries to be around 2 000 litres per week for us to be viable," said Mr Ndlovu.
The co-operative is made up of 36 members although at its formation in 2001 it had 60 members but others opted out over the years. At its inception, the co-operative was known as Umzingwane Dairy Association but last year decided to be registered as a co-operative as it moved to comply with the Zimbabwe Revenue Authority (Zimra) regulations and to enable it to trade with bigger retailers. The organisation opted to operate as a co-operative after most of its clients stopped purchasing its milk products, saying the association was not registered with statutory institutions such as Zimra.
@DNsingo